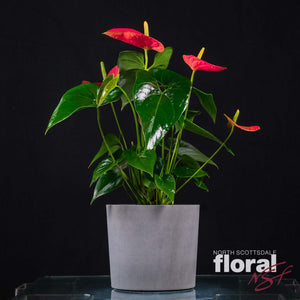 Anthurium plants are surprisingly hearty and exquisitely unique tropical plants. If you're looking for something different, but still with blooming beauty, you can't go wrong with a beautiful Anthurium plant. 
Comes in a custom, high-quality pot. Color of blooms may vary pending seasonal availability. 
*Please note Anthuriums are poisonous if ingested. They should not be in reach of children or animals. Reconsider ordering one if that is a concern.