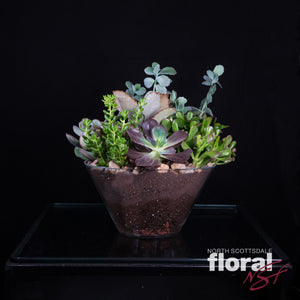 Succulents are beautiful, easy to care for plants reminiscent of Cacti, though don't be mistaken! They are a different family of plants all together. Like their drier cousins, Succulents do require less water and do well in sunny homes. This display is perfect for a modern, elegant look. 
It's not recommended that they be kept outside, so be sure they stay indoors.  
Comes in a custom, high-quality clear bowl for an ultra contemporary display.