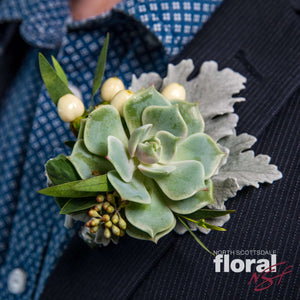 For someone seeking something unique, you can't go wrong with a Succulent boutonniere. 
Your boutonniere will come in a sealed bag that you can store in the refrigerator for assured freshness on the date of your dance.
We can match specific colors with wire or ribbon accents, so please let us know what the color theme is in the comments. 
Specific accent flowers are limited to availability. Succulents naturally come in many shades of Green, Blue, and Purple. Please call if you have any specific requests for your boutonniere.