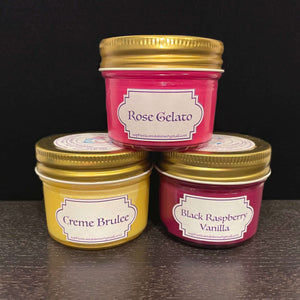 Indulge in the wonderful scent of these hand poured, highly scented soy candles from Sophisticated Sirens, a brand made by members of the team at North Scottsdale Floral.
Each candle comes in a 4 oz. glass container, and it should burn for approximately 15 - 20+ hours. Simply light the wick, sit back, and enjoy the aroma.
Every candle is made with 100% natural soy wax with no additives. Since soy wax is a natural product, the candle may have minor aesthetic imperfections, but this will not affect the scent or quality of your candle. 
Select from a variety of scents. This will add 3 candles to your cart.