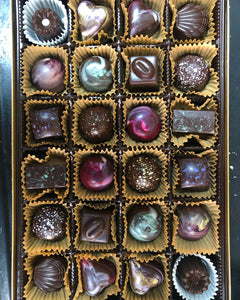 A 24-piece box of assorted chocolates from local artisanal chocolatier Zak's Chocolate. A size perfect to share love in the finest way.
We only sell what we believe in, and Zak's Chocolates represents everything we value at North Scottsdale Floral. They are the only chocolatier in the state to make their own chocolate 100% from scratch. They purchase cocoa beans straight from farms in Central and South America to process into their custom, artisanal chocolate. 
Zak's Chocolates was even recently listed by Yelp as the highest rated chocolatier in Arizona for 2022. 
We guarantee that you will never have tried chocolate quite like this, especially since we are the only flower shop in the state to provide their delicious sweets.